Total Oxidation Units (TOU)
Sometimes referred to as Total Oxidation Units (TOU), these mobile samplers oxidize the sample gas within a reaction tube in a heated environment before flowing through, up to three, bubbler sample bottles. The sample pressure and temperature is displayed along with the mass flow rate and total for data gathering by operators. To enhance longevity, Type N thermocouples are used to control the furnace temperature and provide over-temperature protection.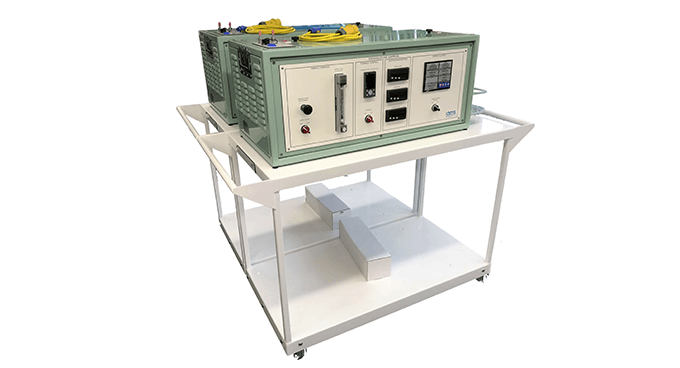 Reaction tubes and furnace
At the heart of the TOU is the AMS designed and manufactured glass reaction tube. This offers several advantages over other commercially available options such as a reduction in the number of bonded joints to improve its integrity and an increased internal surface area to maximise oxidation and allow combustion temperatures up to 1200°C.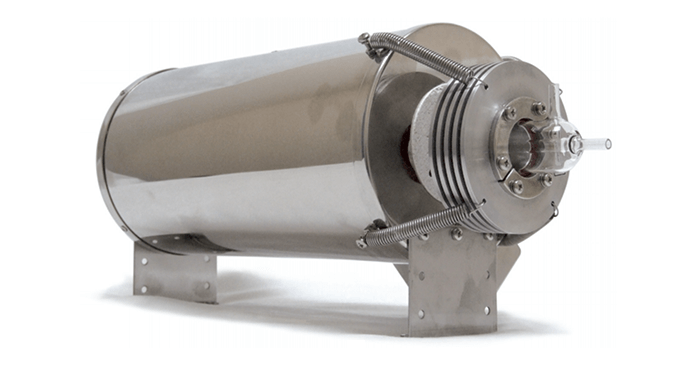 Rigorous testing, witnessed by Magnox plc and approved by British Energy, has proven an oxidation of less than 10ppm when heated above 900°C.
Whilst AMS's Total Oxidation Units are usually customised for each client's specific requirements, they all generally fall into one of three variants depending upon the application.
The Single Stream TOU is used for sampling air in stacks and relies upon sufficient oxygen being present in the sample for combustion to take place. These units are often supplied alongside the static sampling systems used in stack flow monitoring applications.
The Dual Stream TOU is typically employed where the sample gas needs to be supplemented with a separate oxygen feed to enable combustion. Typical applications include the sampling of coolant gas in AGRs to detect a breakthrough of the reactor gas. These units require the sample to be regulated prior to entering the TOU to avoid damaging the glass reaction tube and maintain sampling efficiency.
The High Pressure TOU is very similar to the Dual Stream TOU however this model has on board regulation for applications where the sample can only be supplied at its operating pressure.
The inclusion of thermal mass flow, alarms and datalogging capabilities are just some examples of the customisations that can be supplied.
To discuss your sampling needs, please contact us.
AMS carries stock of all consumable parts of the TOU including furnaces, glass reaction tubes, thermocouples and glassware for collecting the samples.
Sampling Equipment Brochure