AMS offer the full project lifecycle of services related to the supply of bespoke C&I based systems to the nuclear industry.
Particular specialisms include:
Specification and configuration of process instrumentation for the measurement of process parameters: Pressure; temperature; level; flow; pH; moisture; etc.
Hard/Soft Relay logic systems
PLCs
Pneumatic systems
Analogue instrumentation
Alarms
AMS is a vendor independent and therefore able to incorporate in its designs whatever equipment represents the best technical and commercial solution.
Project Lifecycle Management
AMS follows a v-model system for project lifecycle management ensuring that verification and validation activities are conducted thoroughly at each stage in the process. AMS can either provide a full turnkey solution or provide discrete elements of the full lifecycle working in collaboration with clients and partners as needed.
The diagram below provides examples of the types of documentation typically produced at each stage of a project.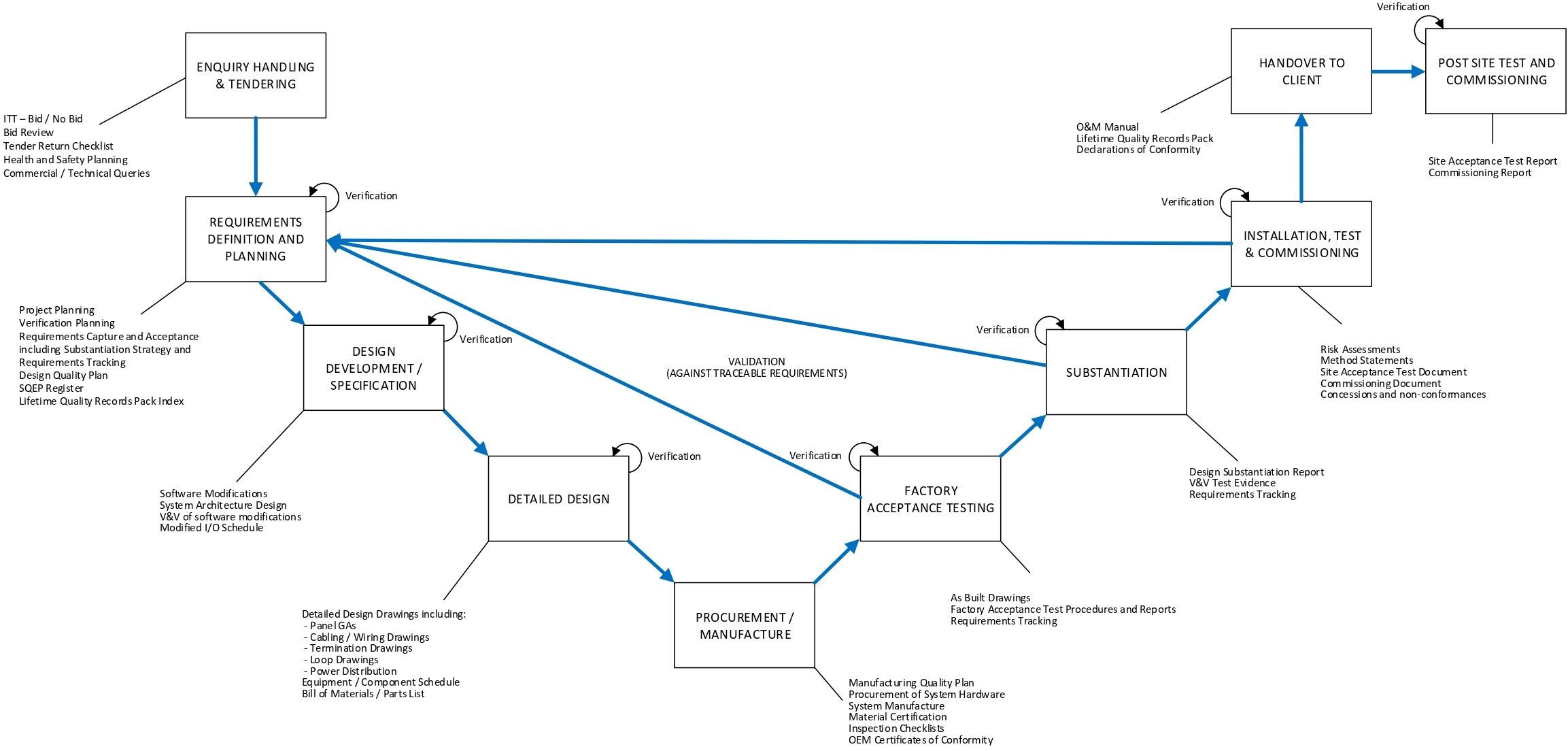 The sections that follow describe each step in more detail.
Requirements Definition and Planning
Our experience dictates that in many cases there are often multiple possible solutions to an engineering problem. To avoid the potential for design philosophy to be determined inadvertently through the production of a specification too early in a project, AMS can support clients by providing a range of early engagement services such as:
Feasibility Studies
Optioneering Reports
Engineering Advice Notes
User Requirements Specifications (URS),
Functional Requirements Specifications (FRS)
Our approach usually involves:
Discussing with systems owners the nature of the problem
Reviewing OPEX and comparing the problem to others addressed by AMS historically
Conducting site walkdowns / taking part in site meetings and teleconferences to gather information
Where appropriate AMS can collate and document findings through the provision of a 'Problem Statement' report. Rough Order of Magnitude (ROM) costs form part of the report providing an aid to project budgeting.
Often, the design philosophy is established at the Concept Design or Basis of Design phase. It is therefore at this stage where it is most critical to involve appropriate specialists to give the project the best chance of success later on. AMS, as C&I specialists, are able to support in this phase.
Detailed design work is conducted by AMS' 'suitably qualified and experienced' (SQEP) engineers who between them have many decades of experience designing C&I systems for nuclear licenced sites.  The AMS team are able to draw upon experience gained from many past projects delivered by the company; examples of which can be seen here.
AMS takes pride in the quality of the systems built. Sub-assembly and final assembly can be conducted in our workshops; our technicians and engineers collaborate to deliver safe and optimal built solutions for the client. AMS only use trusted sub-contractors to fabricate bespoke panels that have been designed in collaboration (AMS and sub-contractor).
We have the capacity to carry out:
Large system builds in our High Bay area,
Pipe Tube-bending,
Electrical wiring,
Instrument set-up and calibration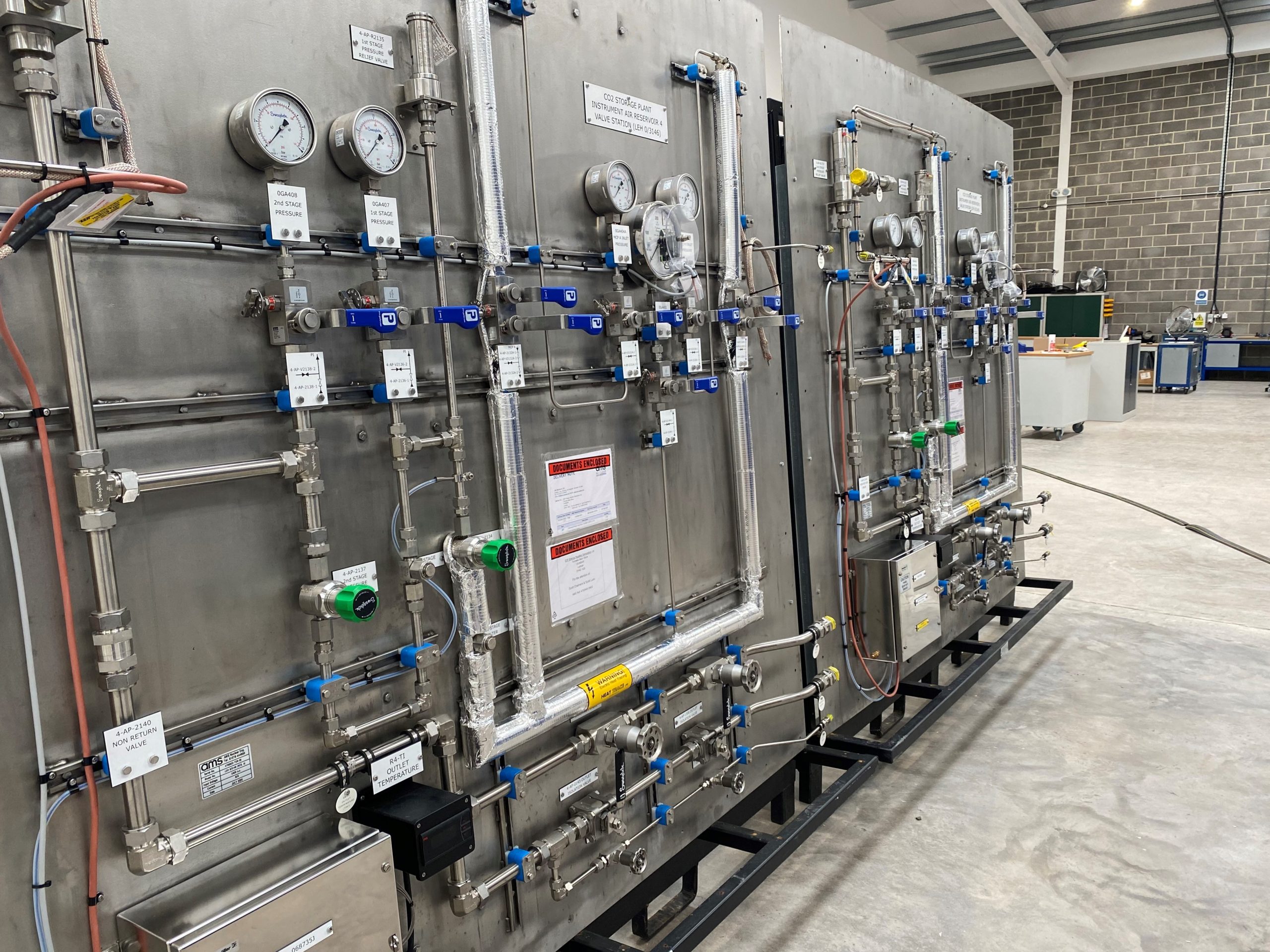 Factory Acceptance Test (FAT)
Factory Acceptance Testing is conducted adjacent to the assembly area of our workshop and can include:
Pre-FAT
Hosting of FAT
FAT Document production
Types of testing include: pressure testing, leak testing, functional testing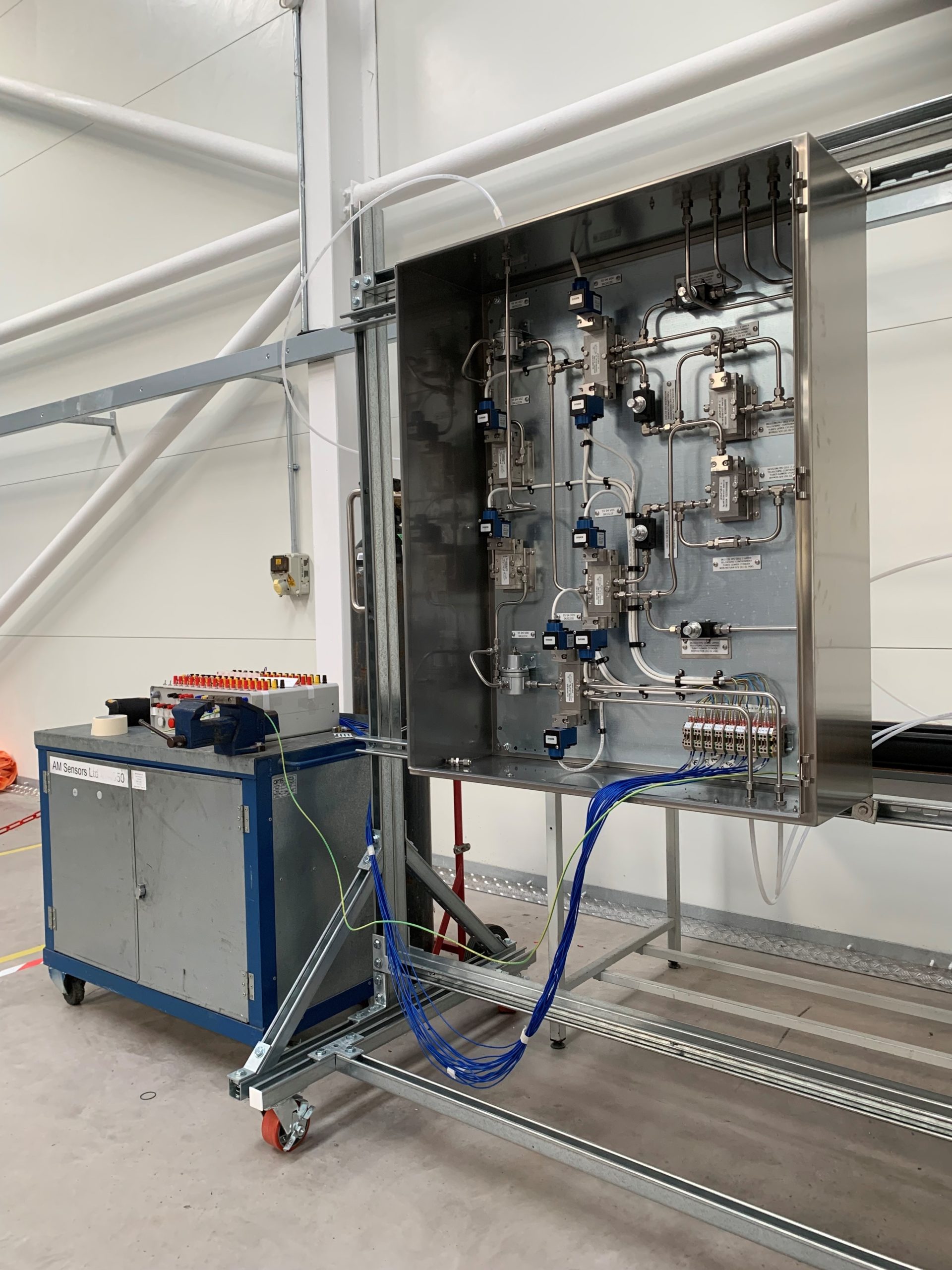 AMS' engineering team is able to offer substantiation either as part of a larger project being undertaken by AMS or as a standalone service substantiating others' designs.
Design Substantiation for Nuclear Safety Significant Systems against client Technical Standards and Technical Guidance Notes
Analytical and Physical Type Testing including Seismic, EMC, Heat Transfer, Thermal Performance and Reliability
Compliance with all relevant codes and standards, including but not limited to: BS 7671, BS EN 62402, IEC 61508, IEC 61513, RCC-E, RCC-M
Installation, Test and Commissioning
AMS' SQEP site teams provide a range of site services including:
Installation – with Installation Method Statements and Risk Assessments
Site Acceptance Testing (SAT) – including SAT Report
Commissioning – including Commissioning Schedule
AMS are very familiar with the practices and procedures concerning access to and working on Nuclear Licenced Sites. When and wherever applicable AMS staff have undertaken, completed and been issued with: Security Clearances; work permits, site safety training etc.
AMS can supply a suite of documentation for all activities listed in the project lifecycle phases above. Dependent upon the application, AMS can provide independent verification of all documentation in accordance with AMS' in-house guidelines and customer specific requirements.
Controlled by our ISO9001 Quality Management System and through intimate knowledge of the customer's QA requirements; AMS maintains a Lifetime Quality Records (LTQR) Pack throughout the entire project lifecycle of the project. These records are handed over to the customer at the end of each project.
Training – AMS always provide Operation & Maintenance (O&M) documentation as part of any project. We will also offer training packages when asked or when we feel it is appropriate to do so.
Support – AMS will always recommend support services where it is deemed appropriate or required.
Technology can advance rapidly causing issues with integration, functionality, operability and ultimately obsolescence. People, and the knowledge/experience that they have can also 'change'. Promotions, retirements, movement in or out of a company can have a detrimental effect upon a system. Through our continued support and training initiatives we aim to minimise these natural disruptions and maximise system output.